ISEA2017
23rd INTERNATIONAL SYMPOSIUM ON ELECTRONIC ART
XVI INTERNATIONAL IMAGE FESTIVAL
CREATIVE CALL
1. Title

Surófona -Radio Online Latinoamericana de Artes Electrónicas
2. Organizers and presenters' names and affiliations

Bernardo Piñero, Intermedia Artist, Researcher and Professor at Universidad Tres de Febrero, Argentina.
Gerardo Gabriel Della Vecchia, Intermedia Artist, Researcher and Professor at Universidad Tres de Febrero, Argentina.
Claudia González, Visual Artist and Art Professor.
Daniel Cruz. Visual Artist, Professor and Researcher at Universidad de Chile.
Hamilton Mestizo, Artist and Independent Researcher.
Raúl Minsburg, Composser, Researcher and Professor at Universidad Tres de Febrero.
3. URL of the demo website or video
http://surofona.org/isea2017/
http://www.surofona.org
https://www.facebook.com/surofona
4. Abstract (ready for diffusion). 200 words maximum.
Surófona is a medium and collective of Latin American artists of diverse disciplines. Through its online experimental radio, it intervenes and interprets exhibitions, festivals and other events in the region, involving arts and new media.
The main contents are: talks with artists, sound art, electroacoustic music, improvisations, sound poetry, reviews of works, telematic concerts, soundscapes, field recordings, sound cartographies and Latin American geolects. The collective develops installations, objects, urban interventions, performance actions and workshops, which expand the discursive and aesthetic processes of emissions.
5. General description of the Project

Surófona/ISEA/Colombia 2017
Instruments, Sound Sculpture, Electronic, Vegetal Material, Paint, Chalk, Computers, Draws.
Installation of variable measures.
The Project is composed by four components; Sound Sculpture, Matéfono, Cañas Geolécticas and Blackboard.
Sound Sculpture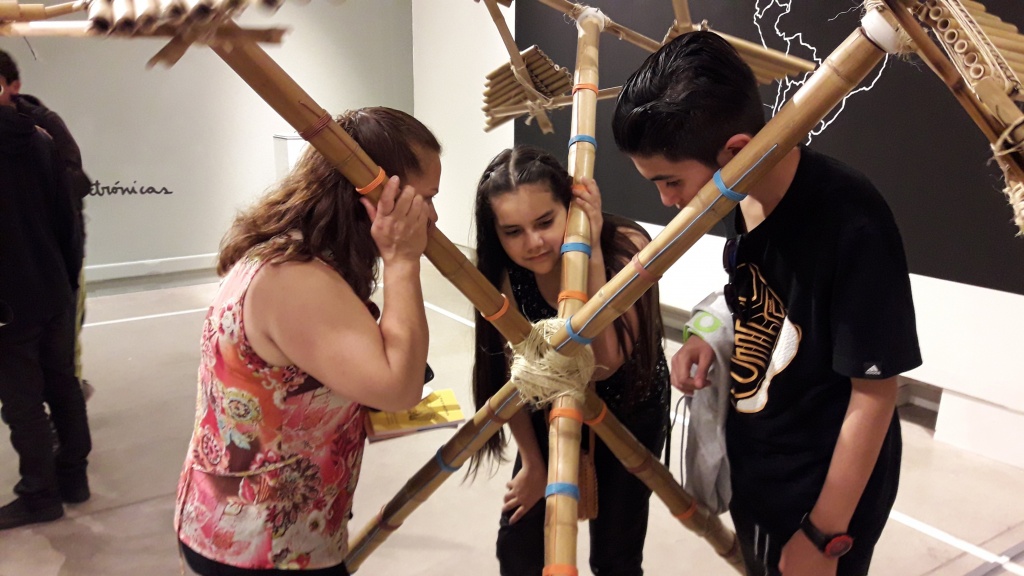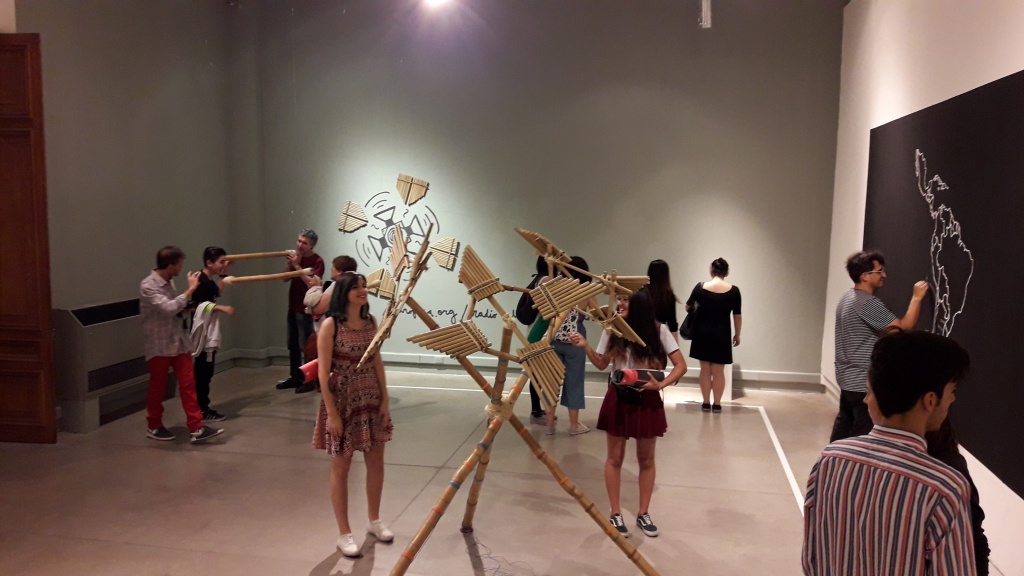 The Sound Sculpture allows the projection of contents which was built in the process of the broadcasting online radio. This contents are part of the exploration of the sound in different objectives: cultural interchange, local words, slangs, argots, soundwalks, soundscapes and sound improvisations.
Matéfono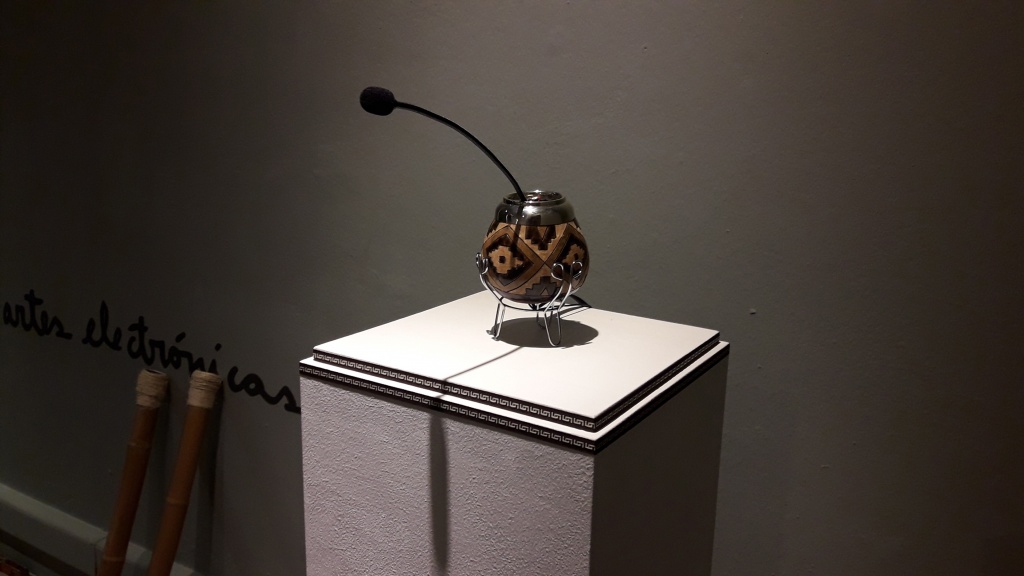 The matéfono is an extensión of the cultural heritage called "mate". I kind of drink which is an instance of share and talk. The goal of this representation is to storage local languages, to build a library of the different ways of the communication.
Cañas Geolécticas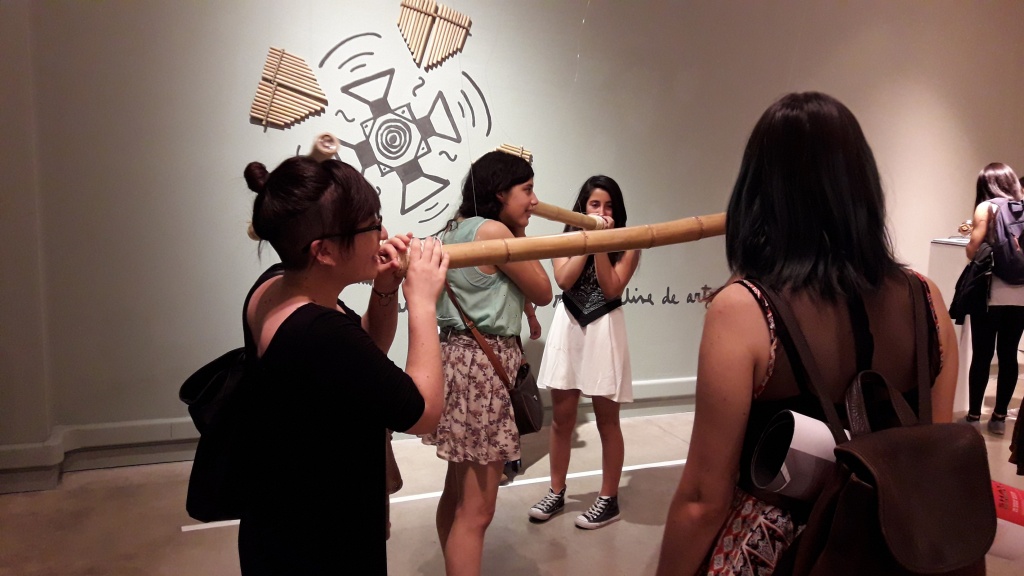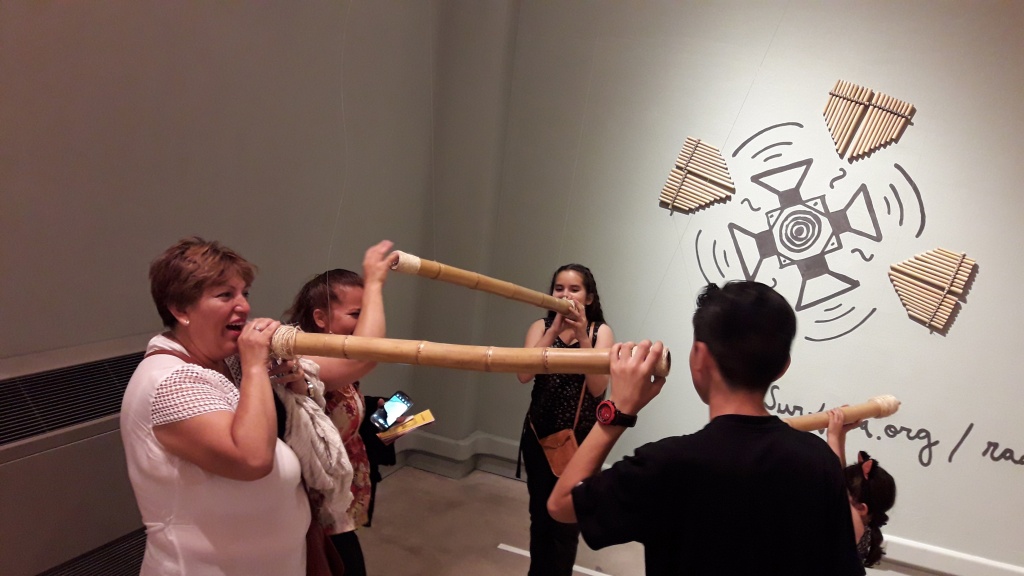 Cañas Geolécticas is an interface builded with bamboo and electronic devices. This interface is a mixture of the gesture of talk and listening.
Blackboard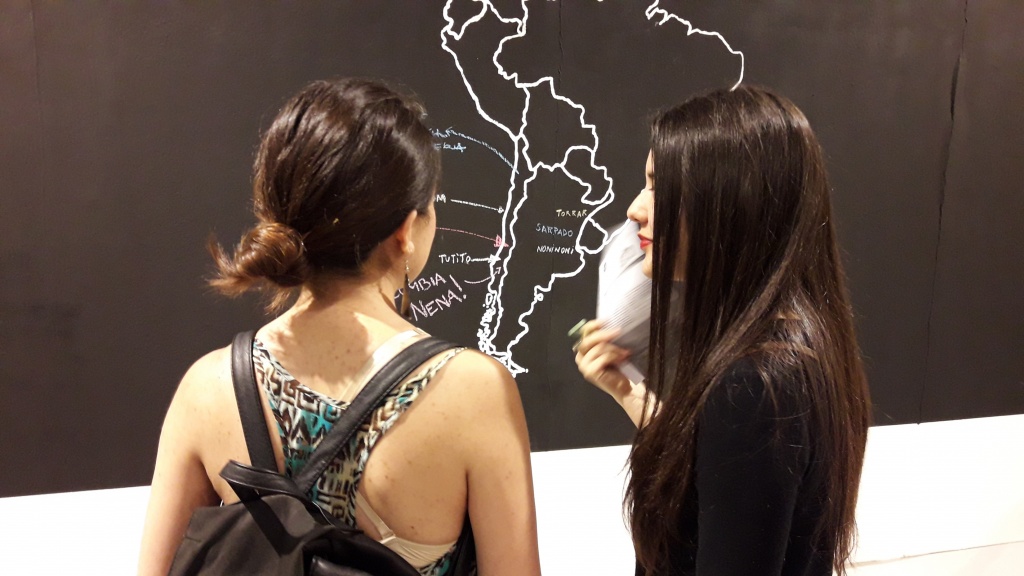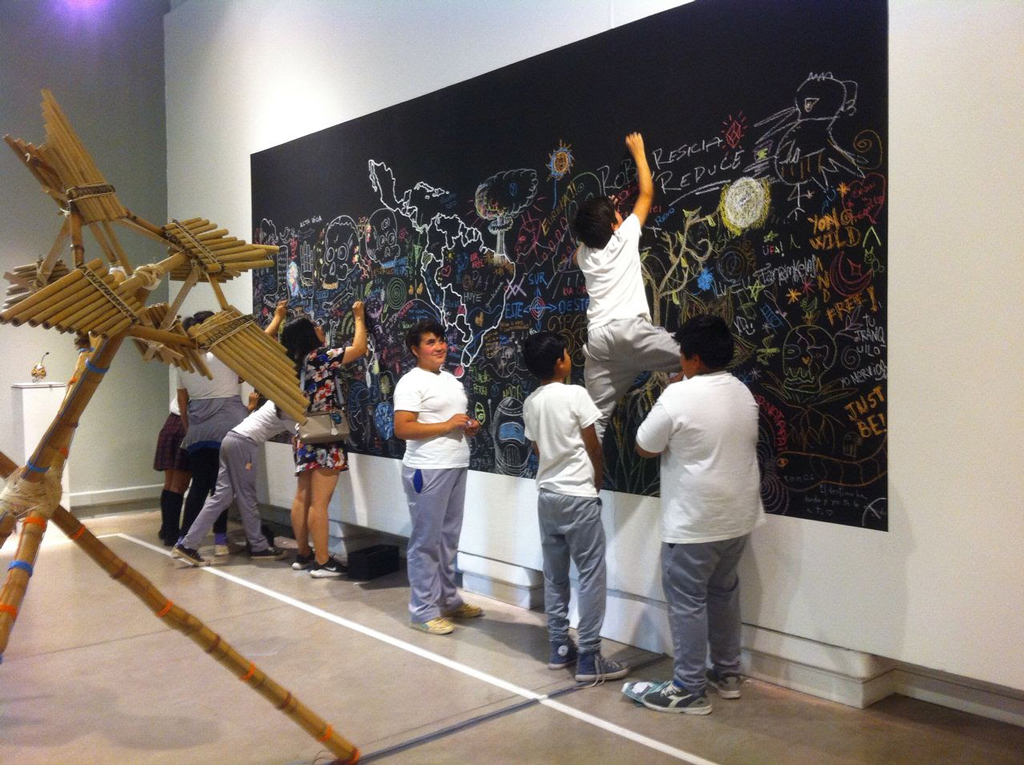 The Blackboard invites to write words, called by surofona the geolectos. This words shows how the language is a permeable action, defined by local relations; ground, food, myths and cultural images, building a blurred zone which stand differences and distances for a double way communication. In this zone appear new bridges to understand and to project the nature of the language.
Finally the proposal of Surófona for the ISEA 2017 is celebrate the difference and encounters in the basics of the communication, to point an area to show us through the spoken language, the hand writing and local materials, where the sound is explored in many ways to discover the usual and unusual points of agreements and the statements.
6. Category. ISEA2017 artistic call convenes to participate in five categories, please select one: Soundscapes, Exhibitions, Installations and Performances, Media Art (Video, Animation, Net Art), Film-and-digital and Design Cases.
Installations and Performances
7. Technical Rider. Please provide the requirements (technological equipment, materials and characteristics of space for all categories of this call)
Sound installation Surófona
Space and furniture
Room.
Space required 6 m wide 8 m long and 3 m high
Possibility to control the lighting.
1 gray wall
1 white wall
Board
Painted on white wall in 2m high and 5m long
Plinth
30cm x 30cm 120cm white height with access door.
Technical Requirements Installation:
Requested for production of ISEA
1 Assembly assistance.
3 Power  near  110 volt 5 amps.
2 Mac mini computer.
Symmetrical 10 Mbps Internet
Computer housing / cabinet
Cable runs from the box to the installation
10 meters of double-sided tape (double-sided)
2 audio amplifiers of 30w RMS
Machine Tools:
3 cell chargers.
Drilling / boring machine
caliper
At least 6 spot lights with closed angle
In charge of the Surofona Team
sculpture:
Structure of reeds
3 geared motors
12 Sikus
2 H-bridge L298
1 Arduino
1 Sources 6vcc
3 surface transducers
1 x 30 w amplifiers
cabling
Canas geolecticas:
3 arduino nano
3 mp3 players
3 speakers
3 sensors (blowing)
3 powerbank
3 chargers
3 rods
Matéfono:
1 microphone
1 arduino nano
(Button similar to whatsapp audio message)
1 speaker
1 10w amplifier
1 12v source
cabling
8. Biographies of the Author(s).

Bernardo Piñero, Buenos Aires, 1982. InterMedia artist, professor-researcher, entrepreneur and producer. Graduated in Electronic Arts at the National University of Tres de Febrero (UNTREF, 2006). He has a specialization in "New technologies for creation in multimedia installations and performances" at the National University of Arts (UNA). He was invited as researcher at Hexagram, with the support of the Canadian Bureau for International Education, where he developed his thesis for the Master's program Maestría en Tecnología y Estética de las Artes Electrónicas at UNTREF (2013). In 2006 he co-founded IQLab with Natalia Pajariño and Gerardo Della Vecchia. It is an artist collective that work with installations and interventions, as well as an enterprise that develop interactive and multimedia products for several brands of Argentina (www.iqlab.com.ar). He has exhibited his works in public and private spaces of Argentina, Chile, Brazil, Colombia, Peru, Ecuador, Canada and Australia. He is the coordinator of the Electronic Arts Experimentation and Research Centre (CEIArtE-UNTREF), where he works from 2006. He teaches media arts and sound technologies at UNTREF and UNA.
---
Claudia González is a Visual Artist and Art's Professor, his work deals with the notion of materiality and mediums, building relationship between high and low technologies, open hardware and
DIY practices. She was co-founder of Chimbalab, a local Art and Technology Medialab Project, giving many Workshops and Lectures about Electronic Experimentation and DIY Culture. Co-founder of Surofona: radio online latinoamericana de artes electrónicas.
She lives and works in Chile in different projects of art, technology and education.
http://claudiagonzalez.cl
---
Gerardo Della Vecchia, Buenos Aires, 1974. Electronic technician, he studied systems engineering for five years. Graduated in Electronic Arts at the National University of Tres de Febrero (UNTREF, 2006). In 2006 he co-founded IQLab with Natalia Pajariño and Bernardo Piñero. It is an artist collective that work with installations and interventions, as well as an enterprise that develop interactive and multimedia products for several brands of Argentina (www.iqlab.com.ar). He was collaborator of Electronic Arts Experimentation and Research Centre (CEIArtE-UNTREF) since 2006 to 2014. He is professor of "Sound and visual integration" at the Electronic Arts Undergraduate Program at UNTreF. He teaches at several workshops on electronics, programming, and arts for adults and children.
---
Hamilton Mestizo, Graduated from fine arts, in 2006 in Bogotá Colombia.  These works lie within the field of science and technology principally researching around biology, electronics, sound and DIY-DIWO culture focusing on ecological and social-political implications. From 2007 to 2014 he had teached at Universidad Nacional de Colombia (2007), Design and Architecture's Department (2008-2012)  and physical computing in Art's Department (2014) at Universidad Javeriana in Bogotá . These classes were places in transdisciplinary experiences, creativity and prototyping technologies. Mestizo has participated and collaborated in diverse events, exhibitions and workshops on the edge of science, art, design, technology, community and free culture around the world principally in South America and Europe dealing with biotechnology, electronics, collaborative DIY and techno culture: Medialab-Prado (Madrid, 2016); rural.scapes (Brasil, 2015); Festival Internacional de la Imagen ( Manizales, 2015); Fundación Platohedro (Medellín, 2015); centro de cultura digital CCD (México, 2014); ISEA sur-south (Sydney, 2013);Balance-Unbalance (Noosa, 2013); Maker Fair (London, 2013); Pixelache (Helsinki-Tallinn, 2013); Plataforma(Bogotá, 2012); Labsurlab ( Quito, 2012); Culturadigital (Rio De Janeiro, 2011); Deus Ex Media (Santiago, 2011); Interactivos?10:neigburhoodscience-Medialab-Prado (Madrid, 2010); VIDA Art and Artificial Life International Awards (Spain, 2007), among others locates. Now he is working in Parque Explora Medellín where he is designing the program and activities in El Colaboratorio (Public Experimentation laboratory and workshop).
---
Daniel Cruz (1975) Visual Artist and Professor. MA (UCH), Certificate de Harvestworks, Digital Media Art Center, New York, USA. Now is the coordinator of the MAM / Master in Media Arts, and the Vice Principal of the Visual Arts Department of Faculty of Arts Universidad de Chile. Since 2000 participate in individuals and collective exhibitions in gallerys, museums, cultural institutions and public space in Chile and Foreigns Countries. "GeoObs"(Goethe Institut, Salvador, Bahía, Brasil 2016); "Bloques Erráticos"(Festival Lumen, Punta Arenas, Chile 2016); "Cruces Sonoros" (MAC, Chile 2016); "Imagen Intermedia" (MAC, Chile 2016); "Una imagen llamada palabra"(Centro de Arte Contemporáneo Cerrilllos, Santiago, Chile 2016); "RadioSurófona"(Festival de la Imagen, Colombia 2016); "Océano de 1cm. de profundidad"(MNBA, Chile 2015); "Cadencia Rota"(Intervención Casa Central U. de Chile 2015); "Océano de 1cm. deprofundidad"(MAC, Chile 2015); "Velocidad de escape"(Espacio Fundación Telefónica, 2013);"Apparatus"(MNBA, Museo sin muros, Concepción, 2013); "Continuum"(EAC, Montevideo, Uruguay 2013); "Cuerpo Retratado"(Centro Cultural Estación Mapocho, 2011); "Telemática paisaje"(Galería Bech, 2011); "SCL2110"(MAC+GAM+CCPLM 2010); "gifProject"(Espacio Público, Pantalla Led 2007); "S_Edición"(Centro Cultural de España, 2002).
Has received different grants and prizes like Fondart [2002, 2005, 2006, 2008, 2009, 2010]; Research Grant DI 2006-2007, Concurso de Creación D.A.V. 2008 y 2016 of the Universidad de Chile, Iniciativa Bicentenario JGM 2014-2015, Fondo de Creación Facultad de Artes, Universidad de Chile 2014 y el Fondo CreArt de la VID Universidad de Chile 2014. In 2015 recive the first prize of the "12o Concurso Internacional a la Creación y Autoría, Juan Downey". He publish several books: Océano 2016; Obj / Objeto Tecnológico en el Arte Contemporáneo 2015; Tecnologías de Mediación 2015 y Espacios Temporales 2014. More about his projects and research in http://www.masivo.cl
---
Raúl Minsburg Composer and researcher. He won several awards, like the award of the Bourges Competition 1994 and 2006 and the First Prize in the Juan C. Paz Competition in Argentina. In 2006 his work "A tu memoria" (para Naúm Minsburg)  received the public award in the Metamorphoses Competition (Belgium) and a mention in the International Competition of Electroacoustic Music in Sao Paolo 2007 (Cimesp). He was recently awarded with the Prize of the city of Buenos Aires.
He develop his activity in the National University of Lanús, in Buenos Aires, Argentina, as a Professor and researcher. He is also Professor at the National University of Tres de Febrero, in Buenos Aires, and member of the CEIArtE – Electronic Arts Experimenting and Research Center.
His music has been performed in Chile, Brazil, Cuba, Costa Rica, Colombia, Spain, Mexico, United States, Canada, France, England, Germany, Israel, Austria, Belgium, Italy, Israel, Portugal, Sweden, Poland and Uruguay in many different concerts and Festivals.
He is founder of the RedASLA, a network dedicated to the Latin American Sonic Arts and collaborator of the Bahía In Sonora Festival, held in the city of Bahía Blanca, Argentina.His works has been released in many collective editions of Cds. In 2009 he launched his monographic Cd "Entre Sueños".